Creamy Mushroom Chicken & Barley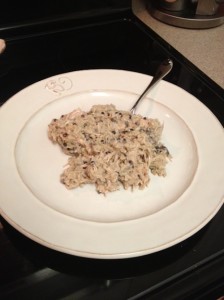 Creamy mushroom chicken and barley is a one pot meal including foods from all food groups.  Being pregnant right now, chicken grosses me out.  So…..I have to disguise it by slow cooking it and then shredding it.  The chicken adds so much lean protein that I know is good for me and baby, so I need to eat it.  It is creamy and nutty at the same time.  A perfect combination.  It is so good that even my 19 month old gobbled it down.
Ingredients:
1 1/2 lbs of skinless boneless chicken (I use hormone free)
1 cup whole grain rice and barley blend (got from Trader Joes)
2 1/2 cups low sodium chicken broth
2- 11oz cream of mushroom condensed soup (I used whole foods 365 brand to avoid all chemicals in other brands)
1 1/2 cups baby bella mushrooms
2 cups broccoli florets, chopped (if you don't like broccoli, you can hardly taste it in this dish)
2 tsp garlic powder
2 tsp onion powder
Prep:
Mix together cream of mushroom soup, mushrooms, broccoli, garlic powder, and onion powder. Put on the bottom of crock pot of dutch oven. If using the dutch oven, preheat oven to 275 (if using crock pot-I would suggest setting it on low to prevent chicken from drying out). Coat chicken breasts in the mushroom soup mixture and cook for 3 hours. About 45 minutes before the chicken is finished cooking, prepare your rice mixture according to package, using the chicken broth. When the chicken is finished cooking, pull out of the dutch oven or crock pot and shred your chicken. Place back into the pot with the cream of mushroom soup. I mixed in my cooked rice after it was finished cooking. It does not look pretty, but it tastes great!!
Facebook Comments
comments